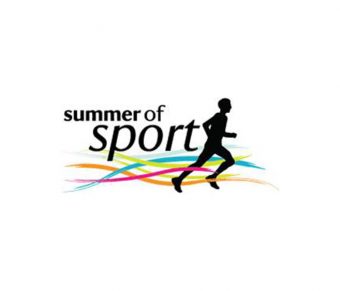 Speke Hall will be getting active this summer, with a series of new sporting events and games.
The National Trust's 'Summer of Sport' aims to encourage people to get outdoors and explore their special places in a new way.  Speke Hall will be one of many properties that will be hosting various challenging and fun sporting events throughout the summer months.
Visitors will be able to take part in everything from archery to yoga during the months of July – September.
'We're really excited to be hosting a summer of sporty activities at Speke Hall. It will be a great opportunity for people get fit, have fun and enjoy this beautiful place. Also by taking part in our events, visitors will be helping us to conserve the outdoors for future generations.' said Rachael Hanlon, Sports Development Officer at the Liverpool Properties'.
Friday 12 August – All Abilities Family FUN – 10:30 – 4:30pm
Over ten different sports – Including disability sport with Greenbank Sports Academy.
All activities except archery will run from 10:30 -4:30pm.
The first day of 'Game On' includes the launch of the partnership between Archery GB and the National Trust. John Stubbs MBE; Paralympic archer will be launching the partnership around midday on Friday 12 Aug at Speke Hall.
Sports include:  Arrows family archery, a climbing wall, rafted canoe trips, archery (from 1pm -5pm), boxing, FENCING, Xplorer orienteering, golf, therapeutic yoga, martial arts, ,self-led Badminton & tennis, PLUS DISABILITY SPORTS such as adapted bikes, disability football, xplorer orienteering and ping table tennis.
Saturday 13th August – Community Sports Day – 10:30 – 4:30pm
Action packed day of 15 diverse sports including: Martial Arts, fencing, boxing, Photo O Orienteering, golf, yoga, tai chi, archery, a climbing wall, rafted canoe trips, Self-led badminton & tennis and an Equestrian Simulator!
Sunday 14th August – Health & Wellbeing Day – 10:30 – 4:30pm
Ten different sports to try throughout the estate, plus wellbeing stalls and health stands located in the Tranquil Zone, supported by the wonderful Liverpool Community Health Ambassador Team & Liverpool City Council.
Including: A climbing wall, buggy fit, archery , rafted canoe trips, boxing, golf, yoga, orienteering, chair based exercises, family cycling, Nordic walking self-led tennis, badminton and table tennis, fencing and the Equestrian Simulator.
For full details please visit: www.nationaltrust.org.uk/spekehall/whatson.
Back to blog