During this year's carers week, 7-13 June 2021, the team at Liverpool Carers Centre delivered a 'Hug in a Mug' tea break box to 1,000 unpaid carers across the city. These boxes contained a mug, tea, coffee and other goodies. Boxes were delivered to 200 carers each day throughout the week.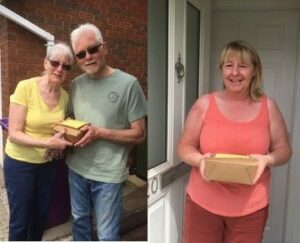 Carers Week is an annual campaign to raise awareness of caring, highlight the challenges unpaid carers face and recognise the contribution they make to families and communities throughout the UK. It also helps people who don't think of themselves as having caring responsibilities to identify as carers and access much-needed support. Caring for someone can be rewarding, but often it can be an extremely difficult and stressful role that can take over every aspect of a carers' daily life. Many carers feel isolated and invisible, a truth that has come to the fore during the pandemic. Carers week provides the opportunity to shine a spotlight on carers and the work they do, with the theme this year being 'Making Caring Visible & Valued'.
Many carers still feel uncertain about leaving home because of the risk of passing the virus to the person they care for and Liverpool Carers Centre wanted to show them they are there to provide support during the easing of restrictions. Carers Centre Manager, Shelley Southern commented, "It is more important than ever that we continue to ensure that carers around us feel valued, the contributions they make in our communities are recognised and that they remain visible."
In addition, the team has been working with LFC Foundation and Merseyside Fire and Rescue Service who prepared 50 cream teas for carers. On the morning of Wednesday 9 June, LFC delivered the teas to the Carers Centre and in the afternoon, the cream teas were delivered to carers by the Fire Service principle officers and Fire Service volunteers.
Tom Harrison, CEO of Local Solutions, said, "Local Solutions has been supporting carers for almost 25 years, but this year our work feels especially important as it has been such a tough year for carers. I'm so proud of our team at Liverpool Carers Centre, who have worked hard to ensure that carers have remained supported through this challenging time".
Registered carers in Liverpool can receive support from Liverpool Carers Centre, whether they just need advice or are looking to access health and wellbeing activities. If you care for a loved one but are not a registered carer, you can contact the centre to arrange a carer assessment. To do this, call 0151-705-2307 or email carerscentre@localsolutions.org.uk.
Back to blog