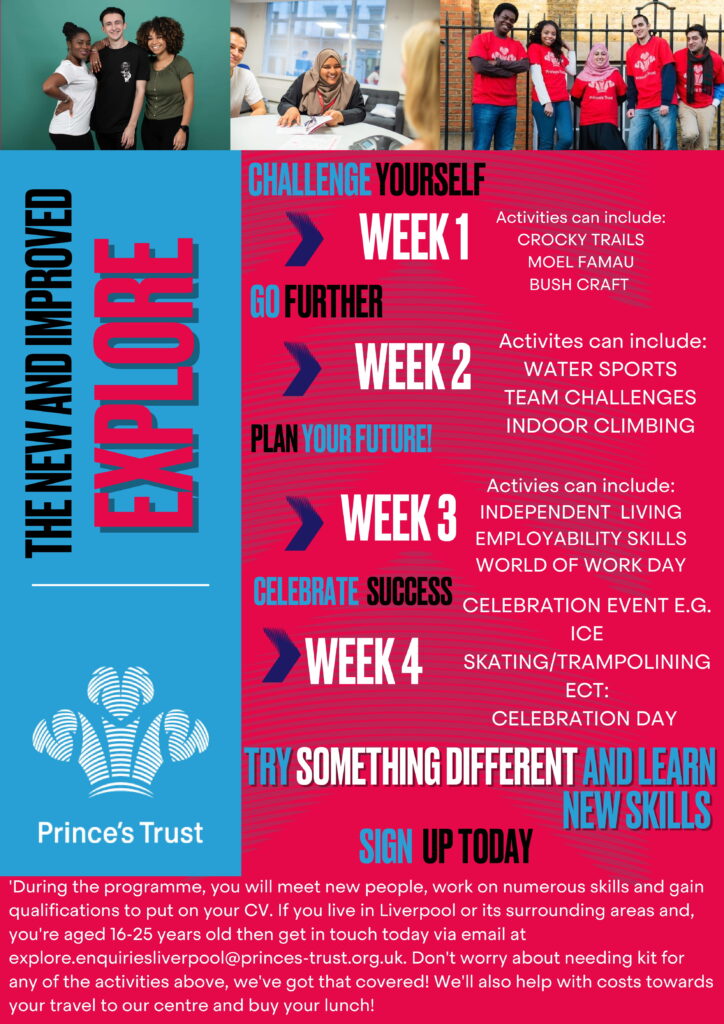 Prince's Trust is now recruiting for their next Explore group, the current group they have are now coming to an end, so they are looking for their next fantastic bunch to work with!
This is an amazing programme aimed to help young people with their confidence, communication skills, teamwork, confidence, managing feelings and employability skills. They do this through a range of activities such as: mountain walking, indoor climbing, team building sessions, employment workshops and water sports! The Yp's don't need any kit they provide it all, along with that they provide £3 towards their travel costs and their lunch! If they are travelling from afar, they can look at helping them more with travel costs.
Now, they can also offer some amazing opportunities for the young people at the end of the course! They have linked up with some fantastic companies who can provide Traineeships in the young person's preferred area. Week one they start looking at what interests the young people have, then by week 4 they hope to have them enrolled onto their next programme, if they're not work-ready then they can continue working with them too!
Also, they still have their development award scheme.
This is a pot of funding that they have for young people who are going into employment, education, or training. They don't need to be on a programme with them to get this funding and they can go up to £500. If you or young person identify something that they need to go towards their employment, education, or training eg: a bike to get to work, a laptop to work from home, a kit for a beauty course, a birth certificate, new clothing for a job they are starting or specific course clothing.
Who is Eligible? UK residents: aged 16-30 – no longer in compulsory education if aged 16 to 17, unemployed if aged 18 to 30, working less than 16 hours per week or in education for less than 14 hours per week. They will also need evidence from company they are starting that states they have a confirmed place and are due to start.
Back to blog