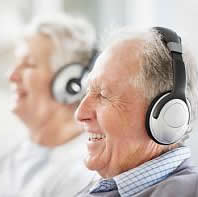 National charity Listening Books has a number of free memberships available to its audiobook library service. The service caters for anyone with an illness, physical or learning disability, learning difficulty or mental health condition, who finds that it impacts on their ability to read or hold books in the usual way.  The free memberships are being offered to people living in Merseyside who would like to join but would find it difficult to cover the usual membership fees (between £20 to £45 per year) for any reason.
Listening Books is not just for people with visual impairments. It is also available to people with many other health conditions that make reading, or holding books, difficult, such as fibromyalgia, ME/CFS, cancer, depression, anxiety, learning disabilities, autism, ADHD, dyslexia, MS, diabetes, arthritis, dementia and others. Listening books believes that books should be accessible to everyone and that audiobooks can be a wonderful source of entertainment, comfort and relaxation for those who are missing out on the enjoyment of reading.
The charity does not require any financial proof in order to grant these free memberships, simply a self-declaration that the membership fees would be a barrier to joining the service. Please be assured that Listening Books is a charity and there are no hidden costs involved.
The Listening Books library has over 8,000 fiction and non-fiction titles for adults and children, including bestselling authors such as JK Rowling, David Walliams, Zadie Smith, George R. R. Martin, Agatha Christie, David Nicholls and many more. It also has educational titles supporting the National Curriculum from Key Stage 2 to A Level; many of these titles are recorded in their very own professional studios, so are not available anywhere else.
Members can borrow our titles in three easily accessible ways:
• sent directly through the post on MP3 CD with no postage costs or late fees
• download audiobooks through the website or app to smartphones, tablets, computers and laptops
• stream audiobooks online through your computer, laptop or tablet
A free membership covers all of the above options.
If you would like to find out more about Listening Books, please visit https://www.listening-books.org.uk/why-join.aspx.
Back to blog