It's Autism Awareness Week and Merseyside Police is working with Cheshire Autism Practical Support (CHAPS), as well as a number of other partners, to promote the Autism Attention Card. The card has been designed to support people with an autism spectrum condition, including Asperger syndrome.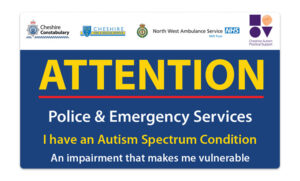 It can be used:
in emergency situations
when dealing with the police
when using public transport
in any situation that arises where someone with Autism is anxious and wishes to explain their behaviour to another person
The card can only be issued to people with a medical diagnosis of autism and can be used to make emergency services aware of an individual's needs.
Applying for an Autism Attention Card
People with a medical diagnosis of autism can apply for a card via the CHAPS website.
When you apply for a card, you can choose to register your details with Merseyside Police if you wish; this is entirely voluntary.
Back to blog