The UK's longest running LGBTQIA arts and culture festival is back 29 October – 15 November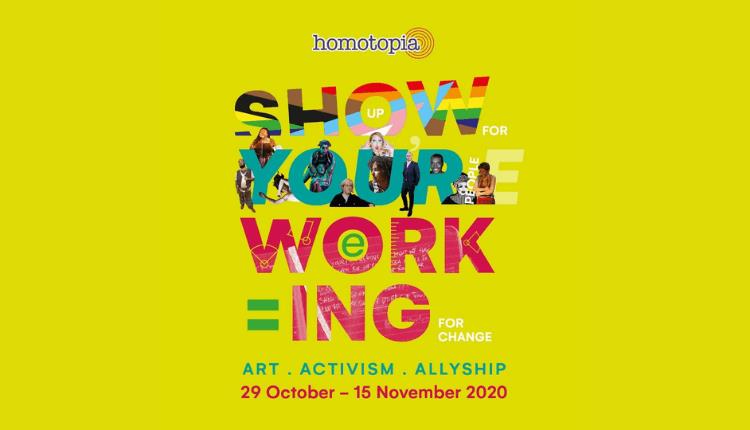 Homotopia's annual arts and culture festival returns this Autumn, with a programme bringing the usual eclectic mix of queer performance, including theatre, spoken word, visual art and music, online and offline.
In a year where everything has changed, the festival will bring new voices into the spotlight and, with a theme of Show Your Working, will explore why the journey is just as important as the destination.
Award-winning artist, filmmaker and campaigner, Fox Fisher is artist-in-residence and hosts a series of events including a film shorts night curated by My Genderation, an ongoing film project documenting authentic trans experiences. The author of two books, Are You A Boy Or Are You A Girl? and The Trans Teen Survival Guide, Fox is also a co-founder and trustee of Trans Pride, Brighton. As an artist, Fox creates colourful and vibrant screen-printed work and will host a special digital and interactive screen printing workshop during Homotopia Festival.
With a combination of physical events and online activities, Homotopia brings this year's festival into new places and spaces.
A "Queer the City" Art Crawl will feature nine artists from Liverpool and beyond, queer-imagining city planning. Encouraging a reflection on how cities are designed and who they are designed for, an audio city guide – hosted by writer, broadcaster and performer Roger Hill – will be available alongside the Art Crawl. Touring the city alongside a LGBTQIA artist, the audio tour will be part of a series of artist-led podcasts available throughout the Festival.
Six new audio plays, by Maz Hedgehog, Day Matter, Marjorie H Morgan, Fox Fisher, Ashleigh Owen and Mo Svendsen, explore Liverpool from a queer perspective. Commissioned and produced by Homotopia, with support from Unity Theatre, Culture Liverpool and BBC Radio Merseyside, the plays tell stories of LGBTQIA experience, past, present and future. Grab a map or download a free audio guide (which will be released as part of a podcast in collaboration with BBC Radio Merseyside).
Mooncup Theatre will present a drag promenade on Liverpool's Hope Street. Gathering safely outside the city's Anglican Cathedral, expect a parade of rainbow complexity, gender and love along the street of HOPE. Mooncup's "The Spice Boys" will host workshops showing drag tips and techniques for those who want to take part.
Liverpool's most eclectic spoken word night A Lovely Word delivers a special evening for Homotopia featuring poet, actor and writer Jade Anouka. Jade's spoken word piece for BBC Arts Culture in Quarantine, HER & HER is a lyrical and musical story told through poetry and beatboxing. Her poetry collection, Eggs on Toast, came out in 2017 and her acting credits, on stage and TV include, Julius Caesar at the Donmar Warehouse, Doctor Who, Chewing Gum and Stan Lee's Lucky Man.
Queer Bodies is a night of poetry and performance, the culmination of a 12 week programme that aims to develop new networks and writing in the North West and explore queer poetics. 12 participants will perform pieces they have written to appear in a pamphlet examining the ownership of queer bodies.
Visit the Homotopia website.
Back to calendar