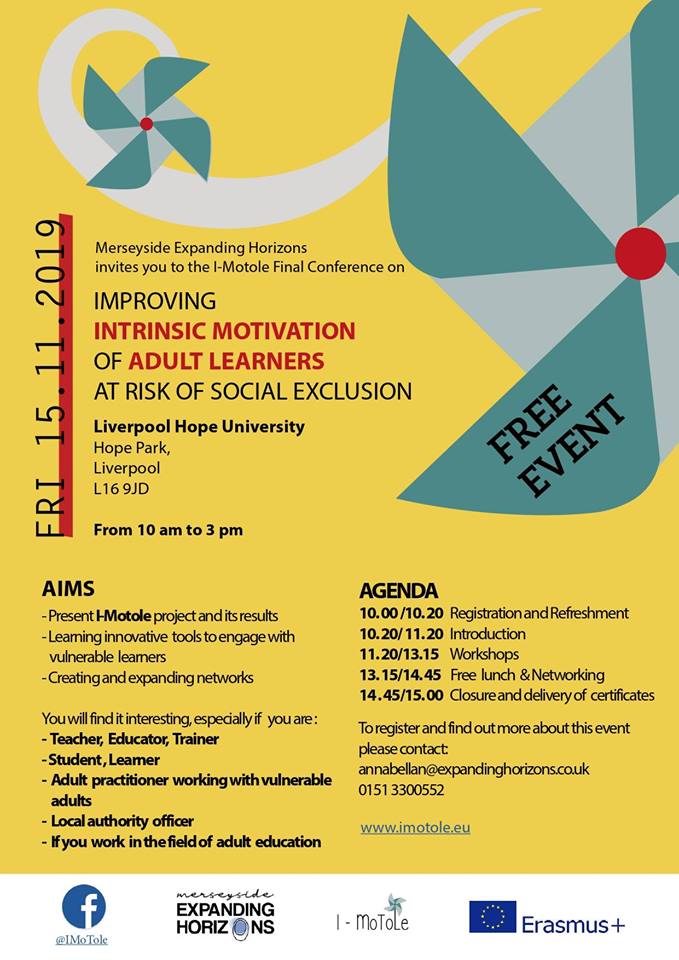 Interactive Conference where you can learn about the I-Motole project and get to practice the innovative tools and resources
10am – 3pm, Liverpool Hope University, 15 November 2019
The I-Motole project responds to European needs, challenges and policy within adult education. In 2009, ET 2020 set four common EU objectives to address challenges in education and training systems by 2020, making lifelong learning and mobility a reality, improving the quality and efficiency of education and training, etc.
The overall aim of the project is to produce a more effective educational experience for adult learners, in the context mentioned, through effective strategies focused on improving the intrinsic motivation of adults from marginal, vulnerable, disadvantaged groups or situations of social exclusion.
About the event
At this event you will have the opportunity to practice the innovative tools and resources, developed by partnership, for improving intrinsic motivation in adult learners.
You will find it interesting, especially if  you are a:
– Teacher, educator or trainer
– Student or learner
– Adult  practitioner  working with vulnerable adults
– Local authority officer
– Person working in the field of adult  education
Lunch will be provided and there will be opportunity to network. Certificates will be provided. Booking is essential.
To find out more and to register for this free event, please click here to visit the Eventbrite page.
Back to calendar