Hosted by Interchange | Tuesday 5 April 2022 | 2 – 4 pm | School of Law & Social Justice, Chatham St, L69 7ZR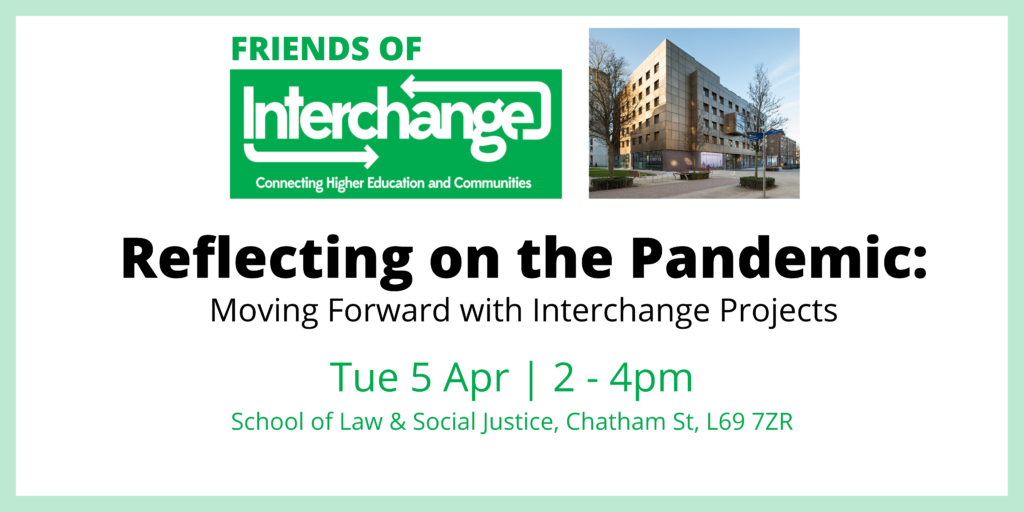 Interchange warmly invites voluntary and community organisations from across Merseyside to the first Friends of Interchange event of 2022, "Reflecting on the Pandemic: Moving Forward with Interchange Projects". The new School of Law & Social Justice Building's bespoke events space is the ideal venue for them to share some initial findings from Interchange's research into how VCOs reacted and adapted in the aftermath of the Covid-19 pandemic.
Speakers will include students and representatives of VCOs who were involved in the research project.
They will also showcase some of the projects that have been carried out by the 2021/22 student cohort, and discuss how Interchange projects can help you to move forward through 2022/23 and beyond.
There will be round-table discussions and networking opportunities with other VCOs, students, and University staff. Refreshments will be provided.
Booking is required as capacity is limited, click here to book a place.
For general enquiries, please contact Kevin & Robyn at interchange@liverpool.ac.uk.
Back to calendar