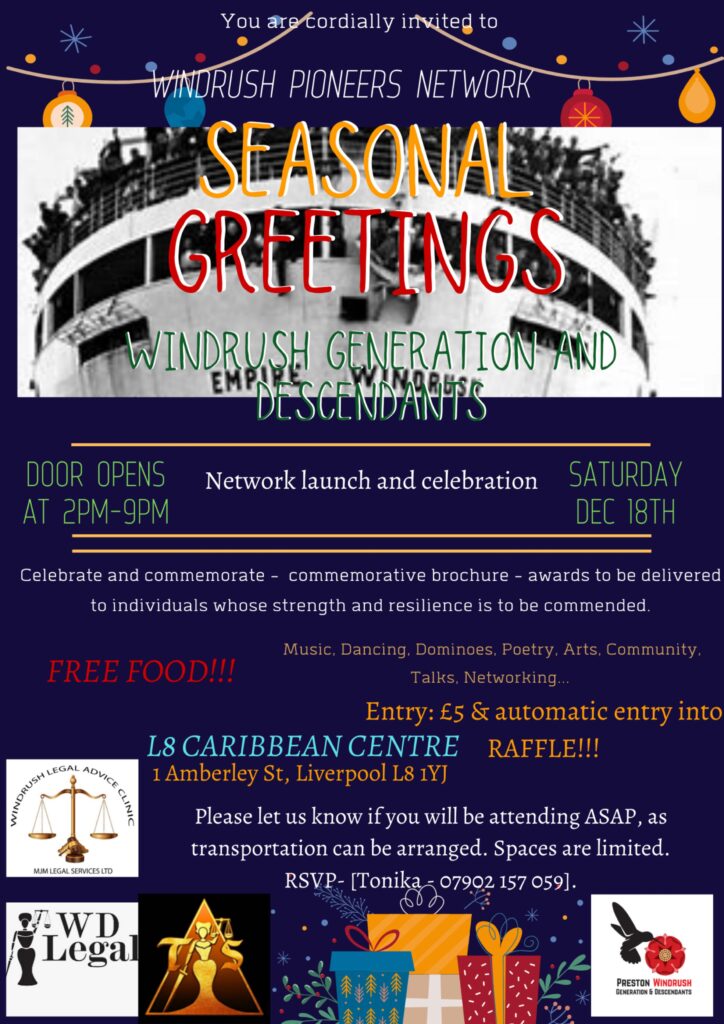 Hosted by Windrush Pioneers Network | Saturday 18 December 2021 | L8 Caribbean Centre, L8 1YJ
The Windrush Pioneers Network, a group of volunteer students, lawyers, and members of the community is inviting you to their Windrush Celebration. They are a network of grassroots organisations and individuals who have dedicated their time and skills to support the Windrush Generation and their descendants, through legal support, advocacy, and research across the United Kingdom. They are launching their network through this Windrush Celebration, to celebrate the power and resilience of the Windrush Generation and their descendants, who have made significant contributions to Britain despite the difficulties that they have largely faced.
As a network, their aims are to highlight and raise awareness of the wrongs inflicted on the Windrush Generation and their descendants, in addition to the response from the African
Caribbean Community based in Britain. After the surfacing of the 'Windrush Scandal' into the national media in April 2018, the African Caribbean community around the UK formed
Windrush groups to begin organising public meetings, legal surgeries and focus groups to mobilise support for people affected in our communities to apply for documentation to rectify
their legal status and claim compensation.
The event will be a well-deserved 'THANK YOU', to the diverse Windrush community, many of whom travelled to Britain to rebuild the country and make a better life for themselves and their families. The Windrush Pioneers Network implore you to sponsor this event. They appreciate any form of sponsorship and would be grateful for all types of donations, both monetary and gifts would be especially appreciated.
For details on how to sponsor the Windrush Pioneers Network, please click here.
If you would like to attend this event, please let them know as soon as possible, you can contact Tonika on 07902157059.
The Windrush Pioneers Network Planning Team consists of representatives from Liverpool Windrush, Windrush Legal Advice Clinic, United Legal Access, Preston Windrush and Stephenson's Consultancy Services Ltd, and WD Legal C.I.C.
Back to calendar