MyClubmoor has teamed up with designer and illustrator Aaron Givens to launch a creative lockdown competition that will appeal to anyone interested in graphic design, illustration, typography or art.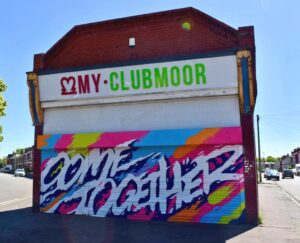 Aaron is the competition winning artist responsible for giving the shutters at MyClubmoor's Community Hub a makeover. The words 'come together' now adorn the building, thanks to his talented handiwork. Not did Aaron create stylish, slick design but the shutters now give visitors a sense of the community spirit that MyClubmoor is all about.
Unfortunately we can't come together in person right now, but MyClubmoor and Aaron have created this competition to introduce a bit of solidarity amongst budding creatives (of all ability levels), as well as provide an enjoyable way to hone skills and flex creative muscles during these difficult times.
Get involved to win a prize
Anyone interested in taking part is invited to come up with a word, words or even a whole message that inspires, uplifts and reflects what community means to you.
If your design is selected amongst the top three you will win £100!
To enter download a mural pack and follow the instructions from the MyClubmoor website.
Back to blog