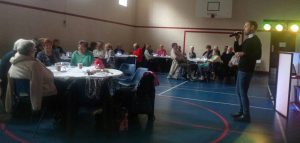 YPAS Plus South Hub held an Intergenerational Event on Saturday 27 January 2018. The event was for older people in the local community and younger people/families. The free event provided Food, DJ, Quiz, Raffle, Games and the local Liverpool X Factor Contestant Gary Barker singing Rat Pack songs.
The event was funded through the LCVS Big Liverpool Get-Together, inspired by the Great Get-Together organised in 2017 by the family of the late MP Jo Cox.
The Big Liverpool Get-Together Fund funds projects that bring together people within communities from different backgrounds, of different ages and with different outlooks, to increase mutual understanding and to help people work together to improve their community.
Paula Smith, YPAS Community Hub Coordinator – South, commented: "What a fantastic day! We had over 80 people attend the event from the local community. YPAS services are aimed at children and young people but we wanted to hold this community event to bring all members of the community around the hub together breaking down any barriers between young and old and dissolving any misconceptions. It was a great success and thank you to everyone who supported us on the day."
Special thank you to Margi from Lee Valley Pensioners who arranged raffle and bingo prizes for the event, which raised £114.27 towards a trip for young people who access our services to Knowsley Safari Park in the half term.
Back to blog