North West law firm Kirwans has named cancer support organisation Maggie's Merseyside at Clatterbridge as its charity for 2018-2019.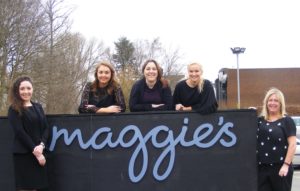 In previous years, the initiative has seen thousands of pounds raised by Kirwans' solicitors and clerks, and staff hope their efforts will provide vital funds as Maggie's prepares for two new centres in the region.
Work on a new purpose-built permanent Maggie's Centre at Clatterbridge Cancer Centre, Wirral, will soon begin (subject to planning permission) as part of an overall £4million investment for two new Maggie's Centres by the Steve Morgan Foundation.
A second facility will follow at the Royal Liverpool Hospital campus where it will sit alongside the new Clatterbridge Cancer Centre.
A new 'Million for Maggie's' appeal has now been launched, calling on the community to help fund running costs and ensure that thousands of people with cancer in the local area can access the free practical and emotional support that will be provided at the new centre.
The existing interim facility at The Clatterbridge Cancer Centre has seen demand for services far outstrip expectations, with 14,000 visitors last year.
Kirwans' solicitors are hoping that, by naming Maggie's as their charity of the year, they will help boost the 'Million for Maggie's' funds. Solicitors from the Private Client department will also continue to provide 'free will days' to Maggie's service users.
Claire Currie, partner at Kirwans, said: "Whether through their own diagnosis or that of a loved one, most people have at some point been touched by cancer.
"The emotional and practical support provided by Maggie's to those trying to deal with the ramifications of such a diagnosis is absolutely invaluable, and we chose them as charity of the year because of the positive impact they have on the lives of both those living with cancer and their families too.
"We're delighted to support the organisation as it prepares for the next exciting stage in its journey."
Kathy Wright, Centre Head for Maggie's said: "We're absolutely thrilled that Kirwans have selected us a charity of the year as it will make such a huge difference to our Centre. We've loved having the support of Claire and her colleagues for our will-writing service, and now we're so excited to work with the broader team throughout the next year.
"It's a huge year for us, as we look to raise a 'Million for Maggie's' to help us open a new Centre here on the Wirral, so the support of Kirwans comes at a really important time for us. It's only through the generosity of our supporters, like Kirwans, that my team and I can continue to support anyone affected by cancer in the area."
Kirwans is a full-service law firm and has supported private and commercial clients across the UK for over 70 years offering legal representation in areas including employment law, corporate and commercial, commercial property, landlord services, conveyancing, private client, dispute resolution, crime, driving offences and agriculture.
Maggie's offers free practical and emotional support for all people living with cancer, and their family and friends. Maggie's Centres are warm and welcoming places, with qualified professionals on hand to offer a programme of support that has been shown to improve physical and emotional wellbeing.
For more information, contact Rachael Tinniswood on 07846 406487.
Image shows (left to right): Danielle Hughes (Kirwans), Elizabeth McCauley (Kirwans), Claire Currie (Kirwans), Sasha Mathias (Maggie's) and Kathy Wright (Maggie's)
Back to blog