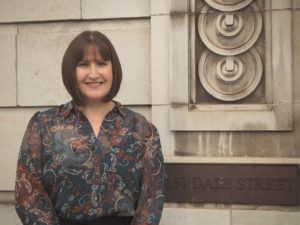 On behalf of the board of trustees, I am pleased to announce the appointment of Clare White to the position of CEO of LCVS, beginning 1 September 2020.
Clare is a familiar face to many, as a result of her previous role at Alder Hey Children's Charity where she was CEO for six years.
During her time at Alder Hey, Clare restructured the charity to make it more sustainable, trebled income by diversifying income streams and delivered £40 million income over two appeals.
Since her departure at the end of 2018, Clare has run her own consultancy, supporting third sector leaders and teams in the areas of leadership, strategy, fundraising and governance.
Clare previously held the post of chief executive at The Tim Parry Johnathan Ball Foundation for Peace, the only UK organisation founded by victims of terrorism, which supports those affected by political violence, conflict and acts of terror.
The board wish to thank previous Co-CEO's Graham Wright and Colin Heaney for their stewardship of LCVS over the last 3 years. Both Graham and Colin remain at LCVS as director of finance and resources and director of policy, partnerships and programmes respectively.
Heather Akehurst
Chair
Back to blog