Following an opening concert that The Daily Telegraph described as 'a marvellous relaunch of Liverpool's concert life' and 'a superb evening of live music-making,' Liverpool Philharmonic has announced a new season of live events.
November Concerts
Enjoy a varied programme of orchestral favourites in November, including Haydn's 'Surprise' Symphony (conducted by Vasily Petrenko), Mozart's Eine Kleine Nachtmusik (conducted by Stephanie Childress) and Beethoven's Symphony No 7 (conducted by Kahchun Wong). The Phil' will also welcome ensembles from the Orchestra (including the Ensemble of St Luke's performing in Discover: Beethoven String Quartets) and recitals by pianist Isata Kanneh Mason and the guitarists the Katona Twins.
Christmas concerts
Enjoy Christmas carols and other seasonal favourites as members of the Royal Liverpool Philharmonic Choir shine in aglorious a cappella concert, or delight the whole family and enjoy The Snowman with Live Orchestra, and Nutcracker – Reimagined with pianist Alexandra Dariescu and the Orchestra's brass ensemble.
Christmas and New Year offerings are courtesy of Liverpool Philharmonic favourites Connie Lush and Perfectly Frank.
In addition, Chief Conductor Designate Domingo Hindoyan returns to conduct a programme of Debussy, Ravel and Prokofiev.
Staying Covid-safe
Lots of considerations have been made to ensure that everyone remains safe during their visit to Liverpool Philharmonic. These include limited seating sales to enable social distancing, the requirement of face coverings and entrance/exit strategies designed to limit close contact.
Tickets are on sale now from the Liverpool Philharmonic website.
Orchestra on Demand!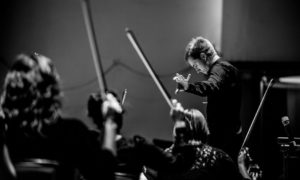 If you're unable to make the live events, you can watch some of these concerts from home with Royal Liverpool Philharmonic Orchestra on Demand. The concerts on 5 November and 3 December will be available to watch online about a week after the live event, preceded by a live preconcert talk on Zoom with BBC Radio 3 broadcaster and author Stephen Johnson, and a post-concert Q&A session with musicians, conductors and composers in a sort of 'post match analysis', where you can ask questions and participate.
Tickets are £10 – for more details and to purchase tickets visit Liverpool Philharmonic On Demand.
Back to blog