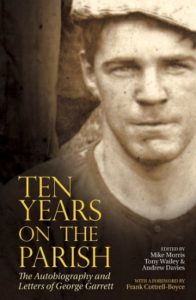 Writing on the Wall is calling on communities across Merseyside to join in on a May Day Protest and Rally in Liverpool.
On Monday 1 May 2017, a May Day parade through Liverpool will be held by Writing on the Wall. The parade is being held to launch Writing on the Wall's WOW fest 17, with the theme 'Revolution', and to also celebrate the publication of George Garrett's autobiography, Ten Years On The Parish, with a foreword by Frank Cottrell-Boyce, by Liverpool University Press.
George Garrett was a merchant seaman, writer, playwright, founder member of Liverpool's Unity Theatre, and a radical activist who travelled the world and wrote a series of short stories, stage plays and documentary reports about poverty and struggle in the 1920's and 30's. The autobiography was written in the late 1930s but has remained unpublished until now, after it was discovered in a suitcase given to Writing on the Wall by the Garrett family. Garrett lived through difficult times, and the aim of the parade is to highlight issues which affected him and his class, which are now contemporary issues affecting local communities.
Garrett's autobiography is increasingly relevant under the current system of austerity. Low pay is endemic, benefit cuts are targeting the most vulnerable, mortgages and rents are rising and homelessness is on the increase. Working families are being forced to into food banks, debt and stifling poverty. While bosses award themselves obscene pay rises, statutory service are being cut to the bone, city councils across the country are being forced into another round of cutbacks, with Liverpool facing another £80 million worth of cuts to the budget. Our National Health Service is at breaking point and across the county essential services are sold to private bidders for whom profit and not care is the driving force. This is all set against the rising rhetoric of racism and xenophobia as politicians, business leaders and their mates in the right wing media turn again to blaming immigrants for the outcome of their own greed.
The parade will start at Toxteth Library and end at William Brown Street (final route to be confirmed). The focal point of the parade will be a 5m model of Garrett, created by renowned model/puppet maker Brian Hanlon, and based on Garrett when he led the Liverpool contingent of The First Hunger March to London in 1922. The parade will involve street theatre, music and a few key note speeches.
Writing on the Wall invites Trade Unions, third sector, cultural and community organisations to support and participate in the parade, to protest against issues similar to those Garrett experienced and campaigned against – poverty, unemployment, homelessness, low pay, etc., and create a unified attempt to push back against the national cuts in funding for local authorities, cuts in the welfare state and the low-wage economy. The aim is to create a festive atmosphere, throughout the parade, to reflect George's Garrett's own love for theatre and agit prop. Organisations can put on pieces of street theatre, dance and music as part of the parade. The only stipulation is that they do not require the parade to stop once it has started.
Writing on the Wall is  asking for support for this event through:
Joining the parade and campaigning against the current cuts
Circulating the information about the parade to your members and contacts
Bringing your banners, whistles and drums, your kids, your mates and your mum!
Raising awareness of current issues affecting local communities and support available to those in need
Providing pieces of street-theatre, agit-prop, music, spoken word, dance or any other form creative protest
For further information, contact Parade Coordinator Hannah Holmes at admin@georgegarrettarchive.co.uk or call 0151 703 0020.
Back to blog