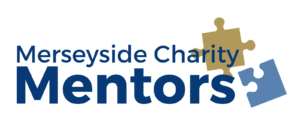 The CVS's in Merseyside in Halton and St Helen's, Liverpool, Knowsley, Sefton and Wirral and the Community Foundation for Merseyside are working together with the Financial and Professional Services Advisory Board of the Local Enterprise Partnership, Liverpool City Region, to pilot a new scheme whereby a charitable organisation or staff team member can be matched with a mentor from the professional and business community in the Liverpool City Region.
This initiative has been inspired by The Lord Lieutenant of Merseyside Mr. Mark Blundell who commented "I am delighted to support the Merseyside Charity Mentors pilot initiative to connect business and charitable organisations across Merseyside to share knowledge, skills and expertise through a mentorship approach."
How it works
As a charity/ community group, you may be looking to build skills in your team and see this as an opportunity to gain new insights, contacts and continue professional development
OR
As an organisation, you are working on an existing idea, planning a new project or wanting to think creatively or differently about a challenge or opportunity. Through the Financial and Professional Services Advisory Board, Liverpool, potential mentors will be made available to be matched with charities and community organisations brokered through the CVS in each borough of Merseyside.
Merseyside Charity Mentors has undertaken a first small scale pilot with excellent shared outcomes and they are now looking for 10 organisations across Merseyside (charities in Halton will be referred to Cheshire Connect) who would be interested in a business mentoring opportunity. Some of the specific areas of mentoring support available are in marketing, financial planning and project management, though not exclusively.
How do I express an interest?
As this is a pilot they are asking any charity or community group who is interested to contact your local CVS (email details below) providing brief details of your organisation, your proposal or project idea, challenge, opportunity or professional development aim and why you would value a business mentor.
The closing date for expressions of interest is Monday, 30 May 2022 at 12 noon.
They will then be in touch with you to discuss your mentorship proposal. If you have any further queries and to lodge your expression of interest please contact:
For groups in Liverpool contact: info@lcvs.org.uk
For groups in Knowsley contact: Racheal.Jones@OneKnowsley.org
For groups in Sefton contact: mcm@seftoncvs.org.uk
For groups in St Helen's and Halton contact: Sally Yeoman syeoman@haltonsthelensvca.org.uk
For groups in Wirral contact: info@communityactionwirral.org.uk.
Back to blog