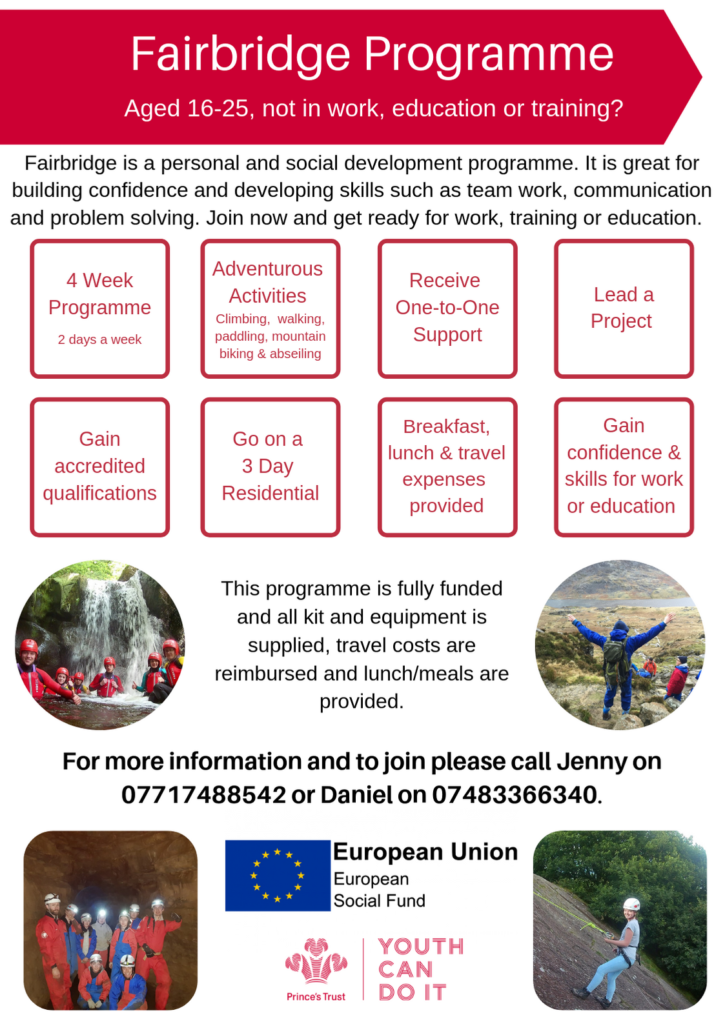 The Prince's Trust in Liverpool is recruiting for their Fairbridge Programme, starting Tuesday 14th May 2019. The Programme is perfect for any young people (aged 16-25) who aren't engaged in work or education, who wish to build the skills, attitude and confidence they need to process to employment or training.
Fairbridge is a personal and social development programme which consists of 2 outdoor learning sessions a week (Tuesday and Wednesday) for 4 weeks, including activities such as climbing, abseiling, mountain/hill walking, paddling, bush craft and mountain biking, all to build confidence and resilience in the young people. The programme also incorporates activities that have been specifically developed to build skills and qualities such as communication, teamwork, problem solving, setting/achieving goals and managing feelings.
Alongside the programme participants will receive 1-1 development and progression support with a dedicated case worker for tailored support and to achieve a positive outcome to progress on to. After the 4-week programme there are opportunities to choose from several 2-3-day projects based around a specific theme, such as Sports Leadership and healthy living, community-based projects, animal welfare, performing arts. Young people will also gain accredited qualifications along with Princes Trust accredited certificates too. There is also the opportunity to take part in an adventurous 3-day residential trip. The programme is fully funded and all kit and equipment is supplied, travel costs are reimbursed and lunch/meals are provided.
For more information, to join or to refer a young person please call Jenny on 07717488542 or Daniel on 07483366340, or get in touch via the Prince's Trust website.
Other programmes recruiting throughout May 2019 include:
Get into Customer Services- course is running from 7th-17th May, contact Rebecca on 07483981310
Get Started with Football Industries (in partnership with Everton in the Community)- Taster day on 9th May and full course running 13th-17th May, contact Daniel on 07768383992
Get Started with Radio- course taking place from the 28th May – 31st May with the taster day taking place on 22nd May. Contact Rebekka on 07484514004
Enterprise- for young people wanting to start their own business- course running between 21st-23rd May. Contact Kerri on 07484009387
Team Programme- multiple locations and start dates- text 'call me' to 07983385418 or call for free 0800 842 842
Find all current Prince's Trust programmes online here.
Back to blog