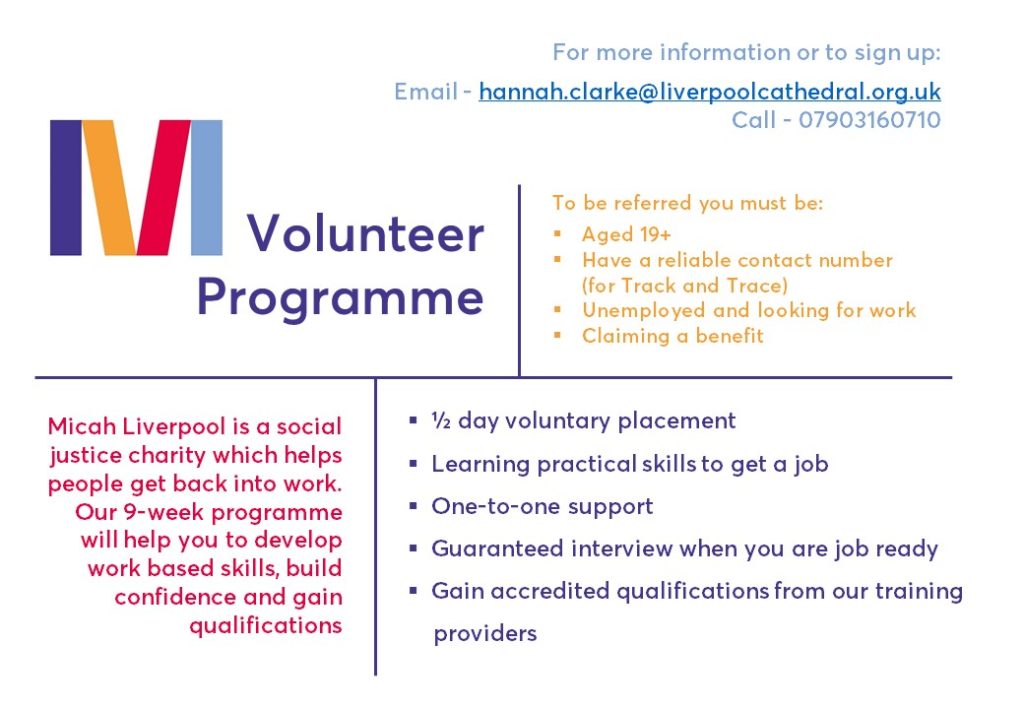 Micah Liverpool Volunteer Programme
Are you unemployed and looking to get back into work?
Micah Liverpool is a social justice charity which helps people get back into employment. Our 9-week programme will help you to develop work based skills, build confidence and gain qualifications. Our next programme will begin on Tuesday 6th October at Liverpool Cathedral.
½ day voluntary placement
We focus on addressing social injustices within our community, which involves taking on roles in our community markets and foodbanks.
Learn practical skills to get a job
Our weekly education sessions focus on getting a job rather than how to be employed. Topics include: using social media to job search, interview technique and how to write CVs and cover letters.
One-to-one support
We will help you create a personalised CV that reflects you and the jobs you're going for, prepare you for interview and help you fill in those lengthy application forms.
Guaranteed interviews
Volunteers who complete the programme can access guaranteed interviews with partners, such as the University of Liverpool.
Extra opportunities
Gain accredited qualifications from our external training providers.
To be referred, you must be:
– 19 years old+
– Have a reliable contact number (for Track and Trace purposes)
– Unemployed and looking for work
For more information or to enrol, email hannah.clarke@liverpoolcathedral.org.uk or call 07903160710.
While sessions and placements will begin on Tuesday 6 October 2020, volunteers will need to be available in the week commencing Monday 28 September 2020 to complete induction paperwork.
Back to calendar