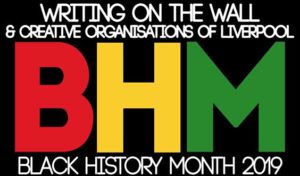 Writing on the Wall is proud to have launched the most exciting Black History Month programme to date, combining national names such as the Guardian editor-at-large journalist and broadcaster Gary Younge and author Kehinde Andrews, with the local talent of Amina Atiq and Leroy Cooper.
Other special guests include data verbaliser Dr. Martin Glynn, members of the gal-dem collective, Rose Thomas – Liverpool's first black woman novelist to be published – and Liverpool 8's own Michelle Charters and Claire Dove.
WoW Fest is proud to have major contributions from the creative organisations of Liverpool, including First Take, Tmesis Theatre, the Chinese Pagoda and Liverpool Irish Festival. Other initiatives and events come from partners rooted in Liverpool's diverse communities, including Blackburne House, The Kuumba Imani Millennium Centre, The Women's Organisation and the new, very exciting kids on the block – Blackfest and the Black Girl Lit Club. There are a host of discussions, screenings, author talks, poetry and parties for this truly Liverpool Black History Month celebration.
WoW's Co-Director Madeline Heneghan said, "I'd really like to thank Liverpool Mayor's Fund and Arts Council England for their support, which has allowed us to bring in partner organisations and to grow this important annual programme. Liverpool has the oldest black community in Europe and a proud multi-cultural tradition. In these politically uncertain times, it is crucial to celebrate these aspects of our city."
For full listings please visit www.wowfest.uk
Back to blog